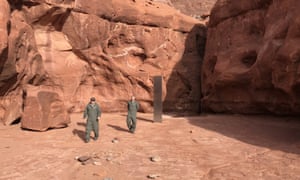 The mysterious, tall, shiny, metallic structure, now known as the "monolith" was first discovered by the Utah Department of Public Safety, whose helicopter crew first spotted it on 18 November during a count of bighorn sheep. The strange find prompted multiple theories about how it had come to be there ranging from TV show set leftover, to art work, to aliens. But by late Friday night, the monolith was gone.
By the time adventurers Riccardo Marino and Sierra Van Meter went to the spot late Friday night to get some photos, it was no longer there. "All that was left in its place was a message written in the dirt that said 'bye bitch' with a fresh pee stain right next to it," Marino posted to instagram. "Someone had just stolen the statue, and we were the first to arrive at the scene". Marino said they saw a pickup truck with a large object in its bed driving in the opposite direction shortly before they got there.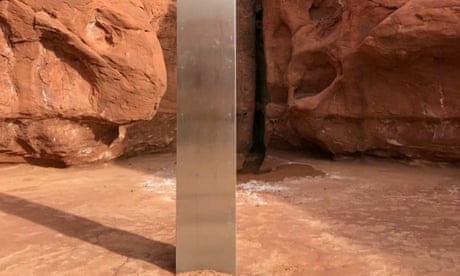 Local officials stated it was removed by 'an unknown party'. "[We] did not remove the structure which is considered private property," A Bureau of Land Management spokesperson said in a statement. "The structure has received international and national attention and we received reports that a person or group removed it on the evening of 27 Nov". The bureau added that it will "not investigate crimes involving private property" as they are "handled by the local sheriff's office".